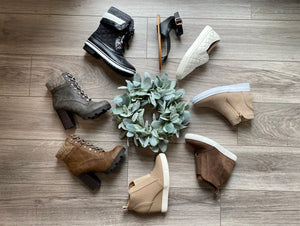 Shoes
Looking for the perfect pair of shoes to complete your look? Let us help you! All of our shoes are selectively chosen to meet just the right combination of "stylish", yet comfortable!
Browse
Loveleigh Lane LLC
300 Main Street, Humphrey, NE 68642

Store Hours
(Stay posted for changes)
Join our Facebook Group for the latest updates and closures!

Closed on
Sunday, Monday & Tuesday

Wednesday
11 am - 5 pm

Thursday
11 am - 5 pm

Friday
11 am - 5 pm
Saturday
10 am - 1 pm

Closed on Holidays